Sculptra® Aesthetic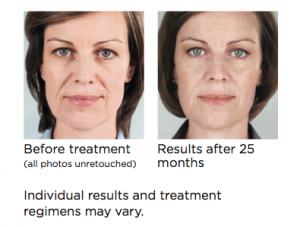 Sculptra® Aesthetic is an ideal facial filler for wrinkles, lines, and folds. It is administered in a series of treatments – on average, three injection sessions over a few months.
Sculptra® Aesthetic stands out from other facial fillers in that it gives natural results that are noticeable subtly and last for more than 2 years! Individual results may vary.
Sculptra® Aesthetic is made of poly-L-lactic acid (safely used in dissolvable stitches and facial injectables for decades). It is gradually absorbed by the body and replaces lost collagen and stimulates new collagen growth. The results – gradual, natural, subtle improvements that last long term!
Sculptra® does not contain human, animal, or bacterial components. As opposed to other long acting fillers, Sculptra® does not require allergy testing prior to treatment.
WHEN WILL I SEE RESULTS?*
Gradually, during the series of injections (on average, most patients need a series of three injections over a few months time). You may also see some additional swelling due to the injections for the first 2-3 days.
HOW LONG WILL RESULTS LAST?*
Typically, benefits from Sculptra® Aesthetic can last up to 25 months. Individual results will vary and you should discuss this with us when you come in for your treatment. Sculptra® is a multi-session treatment and, on average, three injections over a few months are needed for optimum results.
TREATMENT TIME:
60 minutes.
Discomfort is minimal to moderate. May use numbing cream, local anesthetic injections, or ice packs to aid with treatment.
RECOMMENDED FREQUENCY:
On average, Sculptra® treatment sessions are 3 injections over a few months. Treatments typically scheduled 3 weeks apart.
MEDICATIONS TO AVOID:
Discuss with us and your primary physician your exact medication list prior to stopping, but typically avoid for 3-5 days prior to your treatment your blood thinners (such as aspirin, ibuprofen, alcohol, omegas, flaxseed oil, fish oil, vitamin D3, and vitamin E).
POSSIBLE SIDE EFFECTS:
Localized redness, tenderness, swelling; firmness, bumps; discoloration, bruising; very rare possibility of infection. Sculptra® should not be used for people with history of keloid formation or hypertrophic scarring. Not ideal for injection in the lips or near the lips.
*Results may vary
| PRICE | |
| --- | --- |
| Sculptra® | $750*/syringe |