ALPHAEON® and TEOXANE® Skin Care and Eyelash Rejuvenation
The skin care team at Radiance Spa Medical Group is dedicated to providing our patients with the best possible home skin renewal options available. That's why we offer solutions developed by some of the most reputable companies in the world that have proven to help individuals reduce common signs of aging and give their skin a healthier, smoother appearance. ALPHAEON® and TEOXANE® Laboratories are global leaders in at-home skin care products. From eyelash rejuvenation to skin renewal serums and even advanced vitamin supplements, these prolific skin care companies offer a range of product lines that can provide beautiful and quick results!
Some of the products available here at our practice include:
ALPHAEON® Eyelash Serum
The natural aging process can cause thinning of the eyelashes and a lack of eyelash production, resulting in a noticeable difference in the appearance of your eyes. With the non-prescription ALPHAEON® Beauty Eyelash Serum, you can keep your lashes conditioned and hydrated, helping them look fuller and longer in the process. The included brush can be used to apply the serum from the base of your upper eyelids along the length of the eyelashes. Once-a-day application has helped many women improve the appearance of their eyelashes in as little as eight weeks!
TEOXANE® RHA™ Serum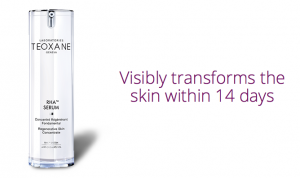 Looking to transform your skin as quickly as possible? RHA™ Serum from the renowned TEOXANE Laboratories in Geneva can renew your skin within 14 days! Composed of Resilient Hyaluronic Acid®, this topical skin care solution is designed to help the skin regenerate, enhance its anti-oxidant protection, and provide an instant tightening effect. RHA™ Serum utilizes the same ingredient that makes up dermal fillers such as JUVÉDERM®. This amazing serum can help relax surface wrinkles and keep the skin looking plumped and toned all day!
ALPHAEON® Skin Essentials Omega Advantage Vitamins
Vitamin supplements from ALPHAEON®'s Skin Essentials Omega Advantage line are designed to renew the skin's appearance by nourishing it from within. Utilizing ingredients such as Omega-3 fatty acids, Vitamin D3, Lutein, and Zeaxanthin, Omega Advantage vitamins can be used to help improve skin brightness and softness, enhance hydration and smoothness, create stronger nails, and result in stronger, shinier hair. Visual improvements to the overall appearance of the skin have been seen after just four weeks of use!
Contact Radiance Spa Medical Group
If you would like more information on our advanced skin care products, or if you would like to schedule a skin care evaluation to determine the best option for your needs, please contact Radiance Spa Medical Group today.