Dermapen®
Dermapen® is ideal for rejuvenating skin. This treatment tightens and lifts skin through a fractional micro-needling device.
After receiving a Dermapen® treatment, you will notice a decrease in fine lines and wrinkles, smaller more minimized pores, and, if applicable, can assist to minimize stretch marks, keloid scars, acne scars, or surgical scars.
Dermapen® works by causing ingrowth of collagen. Ideal regimens are 4-6 treatments over a space of 2-6 months. Each treatment is done approximately 4-5 weeks apart. Dermapen® can be a great complement to chemical peels, IPL, microdermabrasion, and laser skin tightening.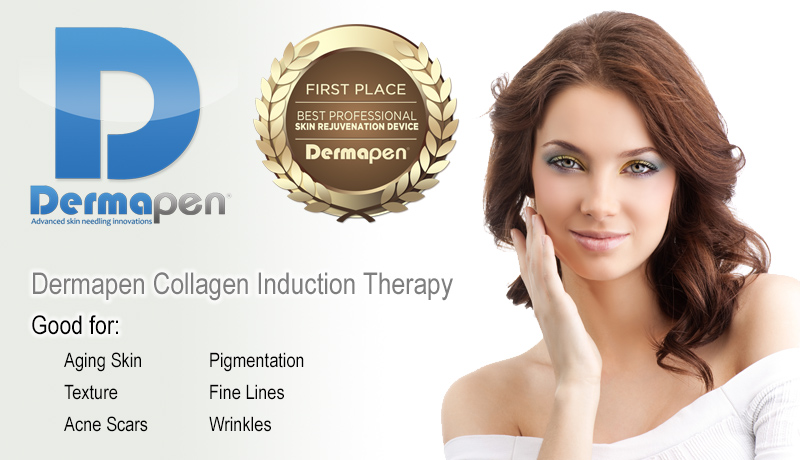 WHEN WILL I SEE RESULTS?
Everyone's skin is different, however, most patients see results (smoother, tighter skin) after about three treatments.
TREATMENT TIME:
About one hour.
RECOMMENDED FREQUENCY :
We will discuss with you a plan after we have examined your skin, but typically we recommend 4-6 treatments every 4-5 weeks.
MEDICATIONS TO AVOID PRIOR TO TREATMENT:
Please discuss with us your exact medication list – be sure to mention if you are taking any photosensitizing medications (Retin-A, autoimmune therapies) or have extreme or active acne. Sun exposure (tanning) should be avoided prior to treatment. Do not apply make-up on treatment day. In addition, gentle care of your skin a few days prior and after treatment is helpful.
POSSIBLE SIDE EFFECTS:
You will feel and look like you have a moderate to severe sunburn. Your skin will feel warm and tight. These sensations should subside within 2 hours after your treatment. You should be back to your "normal" in about 24 hours.
We recommend that, after your Dermapen® treatment, you avoid direct sunlight for about two weeks. You must apply sunscreen daily.
| | |
| --- | --- |
| PRICE | |
| PER TREATMENT | $350* |
Dermapen® Patient Results*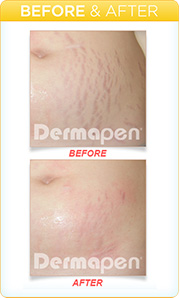 *Individual Results May Vary