ReFirme™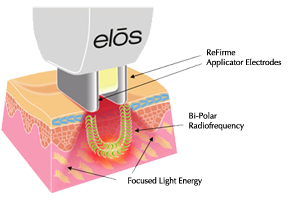 ReFirme™ is a non-invasive, FDA-cleared treatment for wrinkles. ReFirme™ utilizes the elos technology platform, and offers virtually painless treatments that help you achieve a more youthful, toned, and lifted appearance. There is no surgery involved, and many of our medical spa patients are able to return to normal daily routines immediately following treatment!
Elos technology is a combination of bi-polar radio frequency and light energy. Precise energy delivery allows for minimal discomfort, increased safety, and relatively fast treatments with little to no downtime for most patients. ReFirme™ is known to reduce fine wrinkles, lift sagging skin, and smooth and tone skin texture.
WHEN WILL I SEE RESULTS?*
ReFirme™ results are gradual and cumulative; a series of 3-5 treatments is suggested every 3-4 weeks. At the end of your series of 3-5 treatments, you should see a reduction in your fine lines and wrinkles. A noticeable lifting of sagging skin can also typically be seen, and the texture of the skin should improve as well, exhibiting more smoothness and tone.
HOW LONG WILL THESE RESULTS LAST?*
Individual results will vary and you should discuss this with us when you come in for your treatment.
TREATMENT TIME:
60 minutes.Most patients are comfortable throughout their ReFirme™ treatments and do not require any skin numbing nor oral medications.
RECOMMENDED FREQUENCY OF TREATMENTS:
A series of 3-5 ReFirme™ treatments is recommended. Each ReFirme™ treatment should be scheduled 3-4 weeks apart.Maintenance: we recommend a series of treatments every 1.5-2 years or a single treatment every 4 months (after completion of a series).
MEDICATIONS TO AVOID PRIOR TO TREATMENT:
Discuss with us your exact medication list but typically with ReFirme™ we continue all medications and supplements.
POSSIBLE SIDE EFFECTS:
Mild redness of the area treated (usually just for one day).
*Results may vary
| | |
| --- | --- |
| PRICE | |
| PER TREATMENT – FACE & NECK | $350* |
Contact Radiance Spa Medical Group
For more information on this innovative treatment, or to schedule a consultation here at our practice, please contact Radiance Spa Medical Group.