IPL/Photofacial
Stop covering and concealing your skin imperfections! Get back to the clear, youthful skin you desire! Choose fast, easy, and comfortable photo rejuvenation to improve:
Sun Spots
Age Spots
Uneven Skin Color/Hyper pigmentation
Rosacea (facial redness)
Spider Veins/Broken Capillaries
Pore Size
Fine Lines and Wrinkles
Photofacials utilize Intense Pulse Light (IPL) technology to carefully seek out specific pigment colors in your deep layers of your skin. The laser penetrates deep to treat skin "problems" deep at their source.
Treatment Time
30 minutes
Recommended Frequency Of Treatments
Recommend a series of 5 treatments at an interval of 3-4 weeks.
Medications To Avoid Prior To Treatment
Please discuss with us your exact medication list – be sure to mention if you are taking any antibiotics. Please let us know if you have a condition known as porphyria (a condition that causes sensitivity to light). Photosensitizing medications, self tanners, and sun exposure (tanning) should be avoided prior to treatment. In addition, gentle care of your skin a few days prior and after treatment is helpful.
Possible Side Effects
Patients at our medi spa describe the sensation of the treatment to be similar to the snap of a rubber band as the pulses of energy are delivered. Mild redness for 1-2 days is often experienced – this can usually be concealed with makeup. Most redness subsides within an hour of the treatment. Especially with the first treatment, you may notice that your sun damaged skin areas get darker for a few days and then begin to fade.
| IPL Photorejuvenation (Photofacial) | Price |
| --- | --- |
| Face | $295* /treatment |
| Face, Neck | $335* /treatment |
| Face, Neck, Chest | $425* /treatment |
| Neck Only | $120* /treatment |
| Chest Only | $295* /treatment |
| Hands | $195* /treatment |
| Arms | Full $305* /treatment |
| Forearms | $215* /treatment |
| Upper Arms | $215* /treatment |
| Feet | $195* /treatment |
| Legs- Full (hip To Ankle) | $759* /treatment |
| Lower Leg (knee To Ankle) | $429* /treatment |
| Upper Leg (hip To Knee) | $645* /treatment |
| **No touch ups or maintenance | *Prices subject to change |
Skin Rejuvenation Patient Results*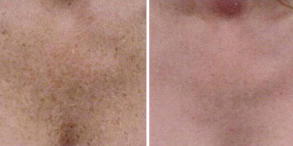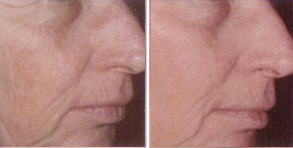 Contact Radiance Spa Medical Group
If you would like more information on photofacial treatment and skin rejuvenation, or if you would like to schedule a consultation here at our practice, please contact Radiance Spa Medical Group.
*Individual Results May Vary