About Us / Meet Our Staff
Our clinical staff members are licensed health care professionals that have developed expertise and specialization in aesthetic medicine. Each of our expert medical professionals has been personally trained by Dr. Max Lehfeldt, and our staff works closely under his direct supervision. Our team members have all received advanced education, experience, and certificates in all of the products and procedures we offer. Our team specializes in minimally invasive and non-invasive medical aesthetic procedures. Your safety, health, and results are our TOP priority. We strive to deliver exemplary customer service in a relaxed and calming environment. Our team will spend time with you to define your aesthetic goals, help you understand your options on how to reach those goals, and address your concerns regarding comfort, time, and finances.
Meet the Team
Roger Terman – General Manager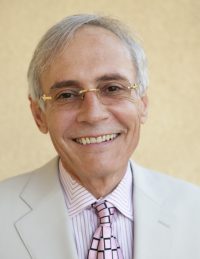 Roger has a wealth of knowledge and experience in the aesthetic field and is a tremendous resource as our general manager. He has been in the medical aesthetic industry for over 15 years and is well-versed on the latest aesthetic techniques and knowledge. Come in for your consultation and because we will be discussing medical procedures, one of our outstanding physician assistants or nurse practitioners will be present to provide additional medical information and recommendations. If you have any special needs or requests please contact Roger.
Cathy Clark – Manager Pasadena, Medical Assistant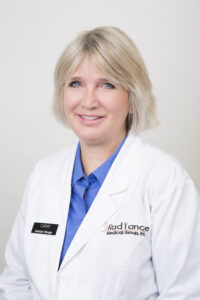 Cathy has over 25 years of experience in medical aesthetics. She is extremely knowledgeable about all the treatments and skin care products that Radiance has to offer. She is the cheerful voice you hear on the phone when you call to book your appointments. Please do not hesitate to ask her your questions!
Gigi Schlueter – Family Nurse Practitioner, Master of Science in Nursing, Registered Nurse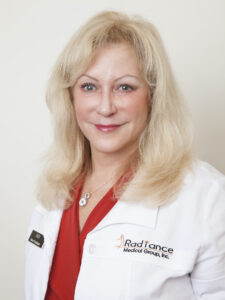 Gigi has been in medicine for over 45 years and medical aesthetics for over 13 years. Her area of specialty includes all injectables (BOTOX® Cosmetic, Dysport®, JUVÉDERM®, JUVÉDERM VOLUMA®, Restylane®, Restylane® Lyft (Perlane). Gigi also specializes in Palomar's photofacial, laser hair reduction, and fractional treatments. Gigi has attended CoolSculpting® University and is a CoolSculpting expert. Gigi also performs SkinPen® and Sclerotherapy. She holds certificates in all procedures she performs. Gigi also holds certification in medical aesthetics from the American Academy of Medical Esthetics Professionals (A.A.M.E.P.).
Julie Clause – Registered Nurse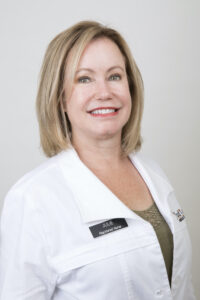 Julie has been a registered nurse for over 25 years and has over 17 years of experience in aesthetic medicine. Julie received her AA from Pasadena City College and worked at Huntington Memorial Hospital for 5 years. Julie has advanced training and specializes in BOTOX® Cosmetic and dermal fillers. She is also certified in laser safety with the Laser Institute of America and has received certification in over 15 different lasers. Julie specializes in the Palomar lasers, Thermage, and Ultherapy.
Shannon Bell – Registered Nurse, Master of Science in Nursing, Adult Nurse Practitioner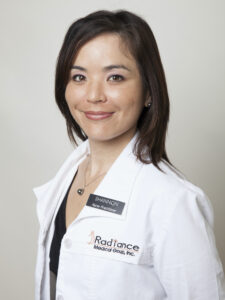 Shannon has been a registered nurse since 2004. She received her MSN from Cal State Long Beach and is a board certified adult geriatric nurse practitioner since 2010. She is an experienced injector for Botox and fillers. She also specializes in Laser Hair Removal, Skinpen, Thermage, CoolSculpting, IPL photofacial, Fractional treatment, and Kybella.She looks forward to helping you achieve your aesthetic goals.
Flor Torres – Registered Nurse, Master of Science in Nursing, Family Nurse Practitioner

Flor received her Master of Science in Nursing from Azusa Pacific University and received her training in injectables through the National Laser Institute. Her areas of specialty include BOTOX® Cosmetic, Dysport, Juvederm®, and Restylane®. Flor also specializes in CoolSculpting and sclerotherapy.
Karina Parra – Master of Public Health, Certified Physician Assistant

Karina received her Masters of Physician Assistant Practice from Keck School of Medicine of USC and received her training in injectables through The Aesthetic Immersion. Karina is fluent in Spanish, loves animals and enjoys hiking. She is detail oriented and looks forward to helping you reach your aesthetic goals.
Michelle Hernandez – Medical Assistant

Michelle is an experienced medical assistant with 16 years in the field of dermatology. She will be the friendly face you see during your appointment with Dr. Lehfeldt. Michelle is a busy mom of three children and a furry child. Michelle is ever positive and loves patient care and helping others. Michelle enjoys cooking (her favorite is meatloaf), baking, and reading. She is claiming title of "Best Auntie" to her nieces and nephew.
Atxiry Jimenez – Medical Assistant

Atxiry has been working in the medical aesthetics field for the past 5 years. Being our bilingual front desk receptionist at our LaCanada location, she is able to help clients achieve their aesthetic goals. She enjoys daily interactions with our clients over the phone, in person and finds it rewarding to help clients look and feel their best. In her spare time, Atxiry enjoys cooking, shopping and spending time with her family.
Our Pasadena Office
Our La Cañada Office
Contact Radiance Spa Medical Group
If you would like more information, or if you would like to schedule a consultation here at our practice, please contact Radiance Spa Medical Group.