Kybella™ for Double Chin Reduction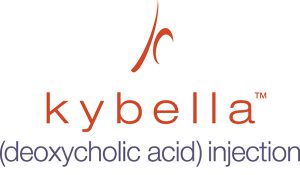 Kybella™ is the first and only FDA-approved treatment for your "double chin" (submental fullness). Double chins are a common condition that can occur due to aging, weight fluctuations, and possibly even genetics. For some individuals, no matter how much they diet or exercise, the double chin does not go away. Double chins often make people look "heavier" and older than their actual age.
Kybella™ is a NON-surgical fat reduction treatment available here at Radiance to improve the contour of a double chin. It is a 15-20 minute, in-office injection treatment that is customized to help you get to your aesthetic goals. Kybella™ is ideal for moderate to severe submental fullness. It is made up of deoxycholic acid (a naturally-occurring chemical in your body) that destroys the fat cells of your double chin. Kybella™ is a non-human, non-animal formulation of deoxycholic acid.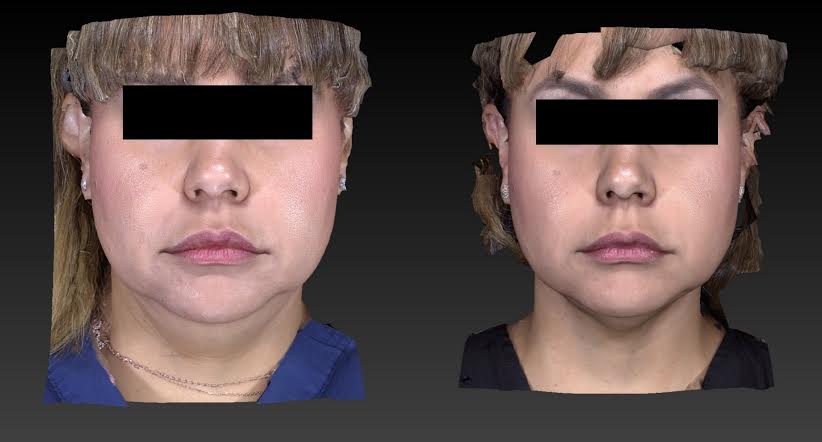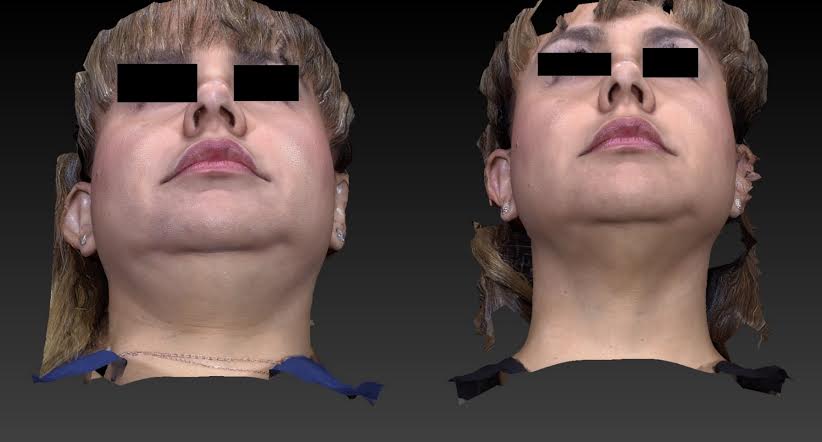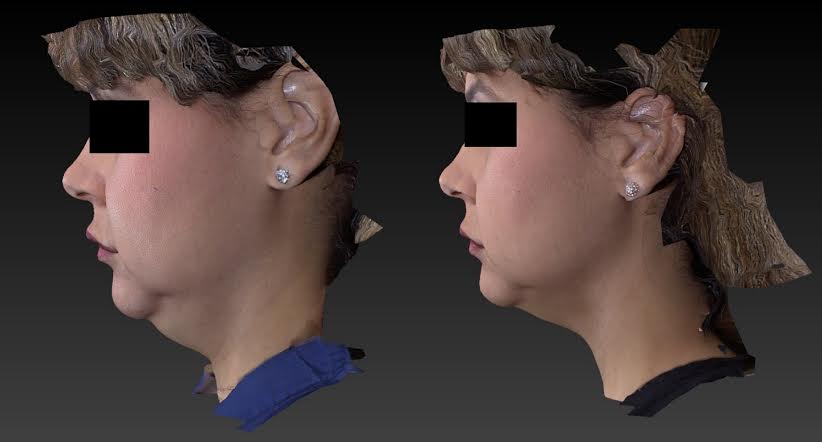 *actual patient – 1 treatment – 6 weeks after
Individual Results May Vary
Kybella™ can be a single treatment, but in most individuals requires a series of two to four treatments. Some patients may require up to six treatments to reach their ideal aesthetic. Each treatment is administered one month or more apart.
Board-certified plastic surgeon Max Lehfeldt, MD is one of the first physicians to be chosen by Kybella™ to offer this amazing new product. Dr. Lehfeldt has also been selected as a trainer/educator/speaker for Kybella™.
When Will I See Results?*
Results are typically seen within a month after injections. Most patients will need a series of two to four injections to reach their ideal aesthetic goals. Treatments should be spaced at least one month apart.
How Long Will My Results Last?*
After the series of treatments and your aesthetic goals are achieved, most patients do not require re-treatment. Once destroyed, the fat cells can no longer accumulate further fat.
Treatment Time?
The actual injections take about 15-20 minutes. We will have you take an over-the-counter pain reliever one hour before your appointment and come in about 30 minutes prior to your treatment for application of some numbing cream. We will also utilize ice to the area being treated and some local anesthetic in the injectable. After the treatment, ice may be re-applied for 10-15 minutes or as needed to help with discomfort.
Medications To Avoid Prior To Treatment?
Patients should discuss exact medication lists with us and their primary care physician prior to stopping medications, but blood thinners and substances such as aspirin, ibuprofen, alcohol, omegas, flaxseed oil, fish oil, vitamin D3, and vitamin E are typically avoided for three to five days prior to treatment.
Possible Side Effects?
Kybella™ is intended for moderate to severe submental fullness/fat in individuals 18 years of age and older. Patients with prominent platysmal bands or excessive skin laxity or looseness may not achieve ideal results. This treatment is not for use in patients who have a history of allergy with mesotherapy, a current or history of dysphagia (trouble swallowing), thyroid abnormalities, or cervical lymphadenopathy. Patients who have received surgical or aesthetic treatments of the submental area within six months should also wait until completely healed. Patients with chin implants should also avoid this treatment.
Most common side effects include injection site edema/swelling, bruising, hematoma, pain, numbness, erythema/redness, and areas of hardness in the treatment area. Rare side effects include difficulty swallowing and nerve injury that may cause an uneven smile or facial muscle weakness.
Dermal Filler
Price

Kybella™

$600/vial*

An average treatment is 3-4 vials

*Prices subject to change
Contact Radiance Spa Medical Group
For more information on Kybella™, or to schedule a consultation here at Radiance Spa Medical Group, please contact us today.