Rejuvenating Chemical Peels
Chemical peels are wonderful treatments that are used to exfoliate, lighten areas of hyper pigmentation, repair and reduce breakouts, control oil, soften lines, and provide a smoother and more even skin texture. The peels available at our med spa include (from gentlest to strongest):
Please remember – not all of our chemical peels cause your skin to "peel" – the chemical peels are working effectively even when your skin does not slough off.
Vitalize Peel® by SkinMedica®
The Vitalize Peel® is a powerful peel that is safe and has little to no downtime or irritation. It is effective for all skin types and addresses hyper pigmentation, post-inflammatory hyper pigmentation, melasma, and photodamage.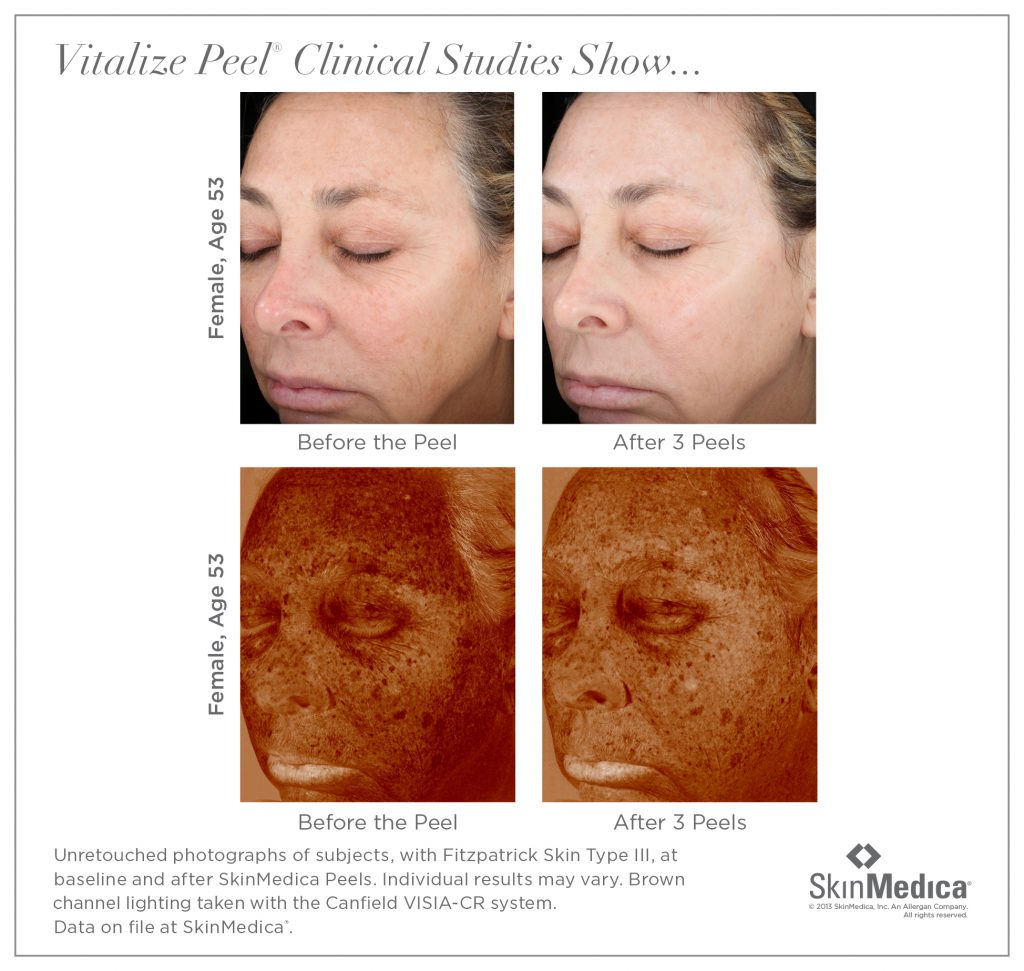 Vitalize Peel®
Price

Vitalize Peel®

$175*/treatment

*Prices subject to change
ViPeel
ViPeel is from Vitality Institute Medical Products in Santa Monica. This peel is a powerful blend that is ideal for virtually all skin types. Many individuals enjoy radiant, younger-looking skin in about a week with the ViPeel. This technique can improve signs of age spots, freckles, hyper-pigmentation, and melasma, as well as soften lines and wrinkles, reduce acne, and stimulate production of collagen! Excessive downtime is typically not required with this treatment. ViPeel was created and originally formulated for a doctor's teenage daughter suffering from acne – the ViPeel can be ideal for patients as young as 12 years old and up. Come in to Radiance Medical Spa for a consultation to see if the ViPeel is right for you!
Video Image Placeholder
Perfect™ Derma Peel
The Perfect Derma Peel is new to Radiance Medical Spa! This peel is one of the most powerful peels that we carry and is safe for use on all skin types. It contains ingredients: TCA, Kojic Acid, Retinoic Acid, Phenol, Vitamin C, and is the only peel that contains anti-oxidant, Glutathione. The Perfect Derma Peel can help with problems such as sun spots, melasma, acne, wrinkles, and can improve the appearance of aging skin. Book your Perfect Derma Peel appointment today and see improvement in your skin in as little as one week!
Contact Radiance Spa Medical Group
If you would like more information on our rejuvenating chemical peels, or if you would like to schedule a consultation here at our practice, please contact Radiance Spa Medical Group.