Obagi Medical®
With headquarters right here in our backyard of Long Beach, Obagi Medical® was founded in 1988 and is the leader in medical grade skin care. Obagi products are not available at your local beauty supply store nor from your local department store. These are medical grade skin care products that must come from your plastic surgeon, Dr. Max Lehfeldt, at Radiance Medical Spa.
We offer the full line of Obagi Medical® products: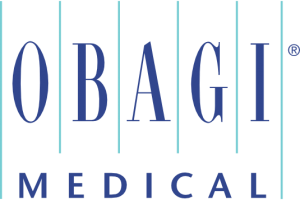 Nu-Derm® System
Condition & Enhance® System
Obagi-C® Rx System
ELASTIderm®
CLENZIderm M.D.™ Systems
Rosaclear® System
Skin aging is a natural, although not always welcome, process. Genetics, diet, smoking, facial expressions, gravity, and sun exposure can all contribute to premature aging. Signs of aging and photodamage can include:
Age spots
Fine lines and wrinkles
Rough skin
Skin laxity (looseness, loss of elasticity)
Erythema (redness)
Sallowness
Hyper pigmentation (discoloration)
Obagi's Nu-Derm® System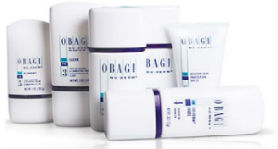 Obagi's Nu-Derm® System is an anti-aging treatment that penetrates the superficial layers of the skin, down to the deeper layers to transform cells into healthier, younger-looking skin! This system is created to maximize results with specific dosages and frequency of medical-grade skin care products. You may be able to see noticeable results after just 6-8 weeks of use.
Obagi-C® Rx System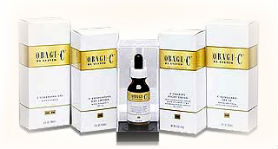 Obagi-C® Rx System is a refined skincare system to help rejuvenate your skin. This system integrates hydroquinone and Vitamin C – the only topical antioxidant proven to stimulate collagen production and protect against future skin damage. The Obagi-C Rx® System is right for you if you have minimal skin changes (mild fine lines, minimal skin tone/pigmentation unevenness) or if you have tried more aggressive anti-aging skin care treatments and you are not able to tolerate them or are not ready for them. The Obagi-C® Rx System is also ideal for sensitive skin.
Obagi CLENZIderm M.D.™ Systems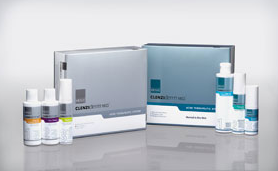 Obagi CLENZIderm M.D.™ Systems are the only prescription-strength acne treatment that contains a patented form of 5% benzoyl peroxide. This special formulation penetrates deep into the skin and follicles and attacks acne-causing bacteria where problems start. Pore Therapy also contains salicylic acid that unclogs pores, cleans away dead skin, minimizes blemishes, and reduces the appearance of oily skin.
Obagi Nu-Derm® Results*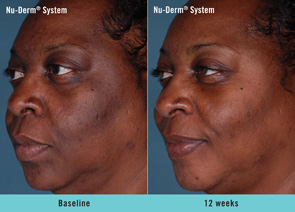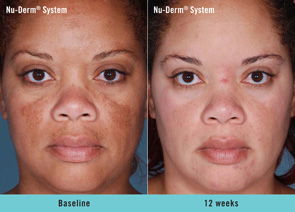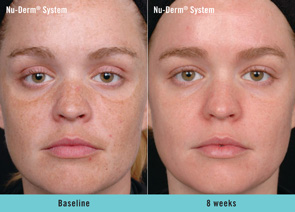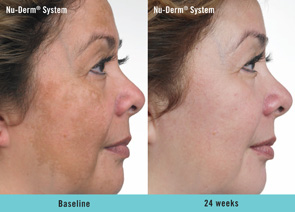 *Individual Results May Vary