SkinPen® Microneedling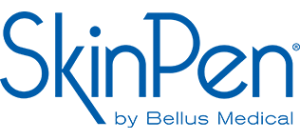 The SkinPen microneedling system is new to Radiance Medical Spa and is a minimally invasive procedure performed in-office. SkinPen holds the distinction of currently being the only class II microneedling device in the United States that has been cleared by the U.S. Food and Drug Administration. This system is safe for all skin types. The SkinPen system is ideal for skin rejuvenation and collagen production. SkinPen is designed to help minimize fine lines, wrinkles, acne scarring, pores, scars, surgical scars, and stretch marks on any area of the body!
SkinPen is considered superior to previous microneedling devices because of its enhanced efficiency. This technique utilizes 14 stainless steel medical-grade needles that can produce 1600 micro injuries per second, working to stimulate collagen in the targeted areas and rejuvenate the skin. An ideal treatment regimen is typically composed of four to six microneedling procedures spaced over a period of two to six months. The procedures are performed once every four to five weeks. SkinPen can be a great complement to chemical peels, IPL/photofacials, microdermabrasion, and skin tightening.
If you would like more information regarding SkinPen treatment, please call our office today to book your complimentary consultation.
When Will I See Results?
Everyone's skin is different, however, most patients see results (smoother, tighter skin) after about three treatments.
Treatment Time
About one hour.
Recommended Frequency
We will discuss with you a plan after we have examined your skin, but typically we recommend 4-6 treatments every 4-5 weeks.
Medications To Avoid Prior To Treatment
Please discuss with us your exact medication list – be sure to mention if you are taking any photosensitizing medications (Retin-A, autoimmune therapies) or have extreme or active acne. Sun exposure (tanning) should be avoided prior to treatment. Do not apply make-up on treatment day. In addition, gentle care of your skin a few days prior and after treatment is helpful.
Possible Side Effects
You will feel and look like you have a moderate to severe sunburn. Your skin will feel warm and tight. These sensations should subside within 2 hours after your treatment. You should be back to your "normal" in about 24 hours.
We recommend that, after your Dermapen® treatment, you avoid direct sunlight for about two weeks. You must apply sunscreen daily.
| SkinPen® Microneedling | Price |
| --- | --- |
| Face | $350* |
| | *Prices subject to change |