Liposonix®
Liposonix® is a revolutionary new treatment that permanently reduces fat non-surgically and non-invasively. Using high intensity focused ultrasound (HIFU) technology, Liposonix® is able to target fat cells and destroy them. Fat cells are then slowly removed by your body. Skin cells and surrounding tissues remain intact and unharmed. The fat does NOT come back in other areas – it is gone for good! With just a one hour treatment, you could lose up to one clothing size!
Liposonix® is ideal for someone close to their ideal body size. With diet and exercise, there remains some stubborn areas of fat – especially around the waistline (abdomen and love handles). These areas can be addressed with Liposonix® "custom contouring" – precise control how and where the treatment is delivered – resulting in a truly customized treatment for you!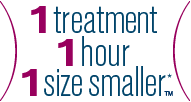 Unlike surgeries like liposuction, there is little to no risk with this non-invasive treatment. It takes 8-12 weeks to appreciate the full effects of your Liposonix® treatment – it is the time that the body needs to gradually excrete the fat that was destroyed during the treatment. For more information please visit their website at www.liposonix.com.
Ideal patients for Liposonix®:
Be able to "pinch an inch" of fat in the area you wish to be treated.
Have realistic expectations about your Liposonix® results. This treatment cannot replace surgery, diet, exercise, and healthy living.

WHEN WILL I SEE RESULTS?
Very important to note that Liposonix® results are typically noticed 8-12 weeks after the treatment. This is how long it takes the body to naturally reabsorb and excrete the fat that was destroyed during the treatment.
HOW LONG WILL THESE RESULTS LAST?
Individual results will vary and you should discuss this with us when you come in for your treatment. Results are optimized if you maintain your ideal body weight, healthy diet, and regular exercise.
TREATMENT TIME:
60 minutes.
Some patients may feel discomfort while the Liposonix® ultrasound technology is being delivered. Patients describe the treatment as feeling cold, warmth, or tingling. This is temporary and indicates that fat destruction is taking place! Discomfort may be classified as mild to moderate but really depends on the patient and varies. Comfort also depends on the location of the area being treated – some areas can be more sensitive than others.
Patients can take ibuprofen for discomfort and can drive themselves to and from the treatment. Patients who are a bit more sensitive can be provided with Vicodin but will be required to have a driver after the treatment.
No special after procedure care required.
RECOMMENDED FREQUENCY OF TREATMENTS:
Most patients see results with just one Liposonix® treatment. Additional improvement can be seen with repeat treatments 12 weeks apart.
MEDICATIONS TO AVOID PRIOR TO TREATMENT:
Discuss with us and your primary physician your exact medication list prior to stopping, but typically avoid your blood thinners (such as aspirin, ibuprofen, alcohol, omegas, flaxseed oil, fish oil, vitamin D3, and vitamin E) for 3-5 days prior to your treatment .
POSSIBLE SIDE EFFECTS:
Most patients will experience tenderness, swelling, bruising, and redness. Bruising may last up to a couple of weeks.
| PRICE: | |
| --- | --- |
| ABDOMEN | $1500* |
| FLANKS | $700* |
| ABDOMEN & FLANKS | $1850* |
| OTHER AREAS | By Consultation Only |
Liposonix® Patient Results
Contact Radiance Spa Medical Group
For more information on Liposonix®, or to schedule a consultation here at our practice to talk more about this treatment, please contact Radiance Spa Medical Group.