BOTOX® Cosmetic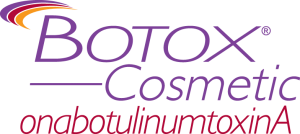 BOTOX® Cosmetic is a solution that is injected into certain muscles in the face that are responsible for wrinkle formation in specific facial areas, such as between the eyebrows, along the forehead, and on the sides of the eyes. By having our medical spa team administer BOTOX® Cosmetic, your facial muscles are gently relaxed and the wrinkles soften with time, which can lead to a more youthful and refreshed appearance. With regular treatments, you should see a reduction in these wrinkles and an improvement in your overall look with results that appear as natural as possible. Consistent use of BOTOX® Cosmetic can potentially prevent wrinkles caused by facial movement from ever forming! These simple, minimally invasive injections are designed to soften the wrinkles, lines, and tension in the injected areas.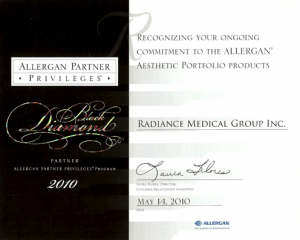 BOTOX® Cosmetic is part of the Allé loyalty rewards program (formerly known as Brilliant Distinctions®). Earn points on your treatment today and they can be used like cash toward your treatment!
BOTOX® Cosmetic Before-and-After Photos*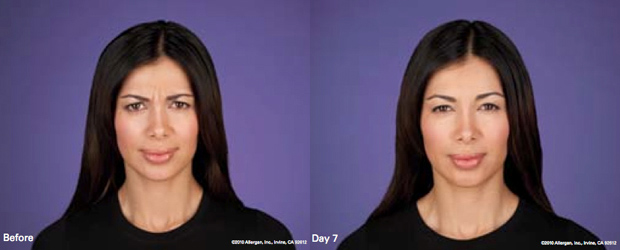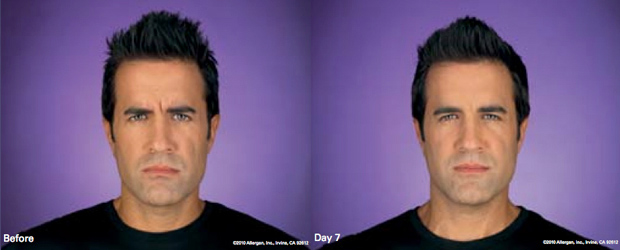 What Are the Benefits of BOTOX® Injections?
Facial wrinkles are often caused by muscle use, including frowning, concentrating, squinting, or even smiling. These wrinkles form through "active" conscious muscle activation, and can also occur subconsciously (without you even realizing it). Facial lines and wrinkles can make individuals look tired and perhaps even older than they actually are. BOTOX® Cosmetic can address these concerns for both women and men, providing a younger and more rested appearance.
BOTOX® injections, composed of a diluted form of botulinum toxin type A, work to temporarily prevent muscles in the treatment area from contracting and forming wrinkles. Crow's feet, "frown lines" and furrows between the eyebrows, and lines along the forehead are some of the most popular concerns that can be improved with BOTOX® Cosmetic. In addition, BOTOX® Cosmetic can be injected to smooth out areas of the neck ("Nefertiti Neck Lift"), and injections into the muscles of the jaw ("Slim Face") can often help with temporomandibular joint (TMJ) issues. Plus, BOTOX® injections have even been utilized to treat excess sweating of the underarms and, in some individuals, to help alleviate headaches.
During your initial consultation, our experienced BOTOX® Cosmetic provider can talk with you about your goals and determine whether this treatment is an ideal solution for your needs.
What Does the BOTOX® Cosmetic Procedure Involve?
The entire BOTOX® Cosmetic treatment usually only takes about 10-20 minutes to complete, depending on the size and number of areas being targeted for rejuvenation. Discomfort from the injections is typically minimal, and an ice pack can be used to alleviate any temporary pain. Most patients do not require a recovery period following BOTOX® Cosmetic treatment. In fact, many patients resume their normal daily routines shortly after the procedure.
Medications To Avoid Prior To Treatment
Please discuss with us and your primary physician your exact medication list prior to stopping any medications, but blood thinners (such as aspirin, ibuprofen, alcohol, omegas, flaxseed oil, fish oil, vitamin D3, and vitamin E) typically need to be avoided for 3-5 days prior to your treatment.
When Will BOTOX® Cosmetic Results Become Noticeable?
Within five to seven days, you should see the beginning results from your BOTOX® Cosmetic injection. With relaxation of your muscles, signs of wrinkles should improve over the next couple of weeks. Full effects can often be seen within 14 days.
Possible Side Effects
Localized redness, tenderness, swelling, subtle bruising, a mild headache, and the very rare possibility of eye droopiness or infection are possible side effects of BOTOX® injections. With that in mind, common side effects of this treatment are typically rather mild and should dissipate within a few days.
How Long Do the Results of BOTOX® Injections Last?
Typically, benefits from BOTOX® Cosmetic can last an average of three to four months. Individual results will vary and you should discuss this with us when you come in for your treatment.
Recommended Frequency of Treatments
For patients who would like to maintain the results of BOTOX® Cosmetic for extended periods, we may recommend follow-up treatment sessions every three to four months for the face. Underarm treatments for sweating can last 6-12 months.
How Much Do BOTOX® Injections Cost?
A minimum of 20 units of BOTOX® Cosmetic are required per purchase and the price of BOTOX® injections is $12 per unit here at Radiance Medical Spa. The price per unit goes down when more units are purchased (please see our pricing page for more specific cost information). A variety of factors unique to the custom treatment plan will be taken into account for the total price, and a member of our team can present you with an estimate once your treatment plan has been developed. We accept an array of convenient payment options, including financing arrangements for qualified applicants through CareCredit®. Our team will be happy to answer any questions you may have!
Liquid Facelift
Price*

BOTOX® COSMETIC
(Minimum 20 units per treatment to receive BD points

$12/unit when 20-39 units purchased

$10/unit when 40+ units purchased

*Prices subject to change
Contact Radiance Spa Medical Group
If you would like more information on BOTOX® Cosmetic, or if you would like to schedule a consultation to talk more about these procedures, please contact Radiance Spa Medical Group.
*Individual Results May Vary