Skin Resurfacing (Fractional)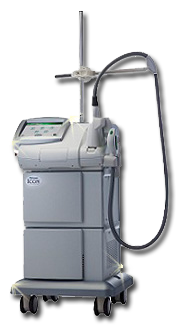 At Radiance Medical Spa we utilize the Palomar Icon™, the industry leader with the latest laser equipment, for non-ablative, fractional laser skin resurfacing. The Palomar Icon™ has the only FDA-cleared melanin reader – the Skintel melanin reader – to make each treatment more effective. In addition, the Palomar Icon™ has "Advanced Contact Cooling" for the most comfortable treatment with skin protection. Our state-of-the-art laser is the most powerful laser that is optimized for the aesthetic patient and has a high-speed microlens (Hexagonal XF Microlens) to increase surface coverage, making your treatment even faster!
Fractional skin resurfacing is an ideal treatment for:
Skin laxity
Fine wrinkles
Deep frown lines
Stretch marks
Scars
Undesirable texture irregularities
Blotchy skin
With a series of treatments, fractional skin resurfacing uses laser energy to reach deep into the dermis. Deep skin penetration allows the Palomar Icon™ to stimulate new collagen through the body's healing process which allows for gradual skin tightening, reduction of wrinkles and fine lines, softening of deeper frown lines, and improved skin tone and texture. The term "fractional" is used as only a "fraction" of the skin's surface is treated by the laser each time. This leaves areas of untouched skin which accelerates the healing process and enables you to get back to your normal activities faster with minimal downtime.
HOW LONG WILL THESE RESULTS LAST?
Results of the treatment are long-term and with proper skin care and protection, results can last for many years. Most people continue to show improvement up to 6 months after the procedure.
TREATMENT TIME:
A series of 3-5 treatments are recommended at one month intervals.
MEDICATIONS TO AVOID PRIOR TO TREATMENT:
Please discuss with us your exact medication list – be sure to mention if you are taking any antibiotics. Please let us know if you have a condition known as porphyria (a condition that causes sensitivity to light). Photosensitizing medications should be avoided prior to treatment.
POSSIBLE SIDE EFFECTS:
Slight tenderness, redness, or swelling for 1-3 days is common. Minimal to no pain during the procedure. MUST avoid direct sun exposure for 3-4 weeks after the treatment and wear sun block every day for at least a month after the last treatment.
| PRICE: | |
| --- | --- |
| FULL FACE | $650* |
| FACE AND NECK | $800* |
| UPPER LIP ("SMOKERS LINES") | $175* |
Fractional Skin Resurfacing Patient Results
*Photos courtesy of Palomar
Contact Radiance Spa Medical Group
For more information on fractional laser skin resurfacing, or if you would like to schedule a consultation here at our practice, please contact Radiance Spa Medical Group.