Stretch Marks
Stretch marks or "striae" are a type of off-color scar that forms on the skin. They can result from genetics, puberty (rapid growth or muscle building), pregnancy (75-90% of women), hormonal changes, and weight gain; all of these cause rapid stretching or tearing of the dermis of the skin. These striae form where there is usually fat – belly, breasts, arms, back, or thighs.
Stretch marks can be a source of insecurity and embarrassment to many individuals – but worry no more! Now there are advanced laser treatments – the Palomar Icon – that can reduce the appearance of these unsightly striations of the skin.
Our professionals at Radiance will utilize the latest in fractional laser therapy to improve the aesthetic appearance of stretch marks with little to no downtime. Skin texture and color of the stretch marks will improve with this laser treatment. Important to note is that the stretch mark area will remain but will have an improved aesthetic appearance and texture. We will not "remove" the stretch mark; we will make the stretch mark so that it is not seen as easily and the tone of the skin in the area of the stretch mark is vastly improved. The laser treatment will lighten red or dark stretch marks and bring about collagen growth to the area. The collagen will improve the texture and look of the skin.
WHEN WILL I SEE RESULTS?*
It depends on the individual, but most people will need 3-5 laser treatments for optimum results. Once you finish your recommended number of treatments, the results will keep improving for the next 3-6 months.
TREATMENT TIME:
It depends on the size of the area being treated, but the procedure can be performed in as little as 30 minutes.
RECOMMENDED FREQUENCY OF TREATMENTS:
Treatments are usually spaced every 3-4 weeks.
MEDICATIONS TO AVOID PRIOR TO TREATMENT:
Please discuss with us your exact medication list – be sure to mention if you are taking any antibiotics. Please let us know if you have a condition known as porphyria (a condition that causes sensitivity to light). Photosensitizing medications should be avoided prior to treatment.
POSSIBLE SIDE EFFECTS:
Slight tenderness, redness, or swelling for 1-3 days is common. Minimal to no pain during the procedure. MUST avoid direct sun exposure for 3-4 weeks after the treatment and wear sun block every day for at least a month after the last treatment.
*Results may vary
| | |
| --- | --- |
| PRICE – STRETCH MARKS (area measurement) | Price |
| 1 – 5 inches ($300 minimum) | $100/sq inch* |
| 5 – 10 inches | $80/sq inch* |
| 10 – 20 inches | $65/sq inch* |
| 20+ inches | $50/sq inch* |
**No touch ups or maintenance
Patient Results*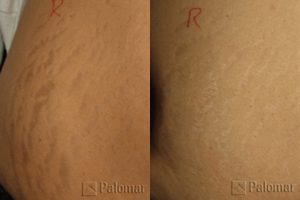 Contact Radiance Spa Medical Group
If you would like more information on stretch mark reduction treatments, or if you would like to schedule a consultation here at our practice, please contact Radiance Spa Medical Group.
*Individual Results May Vary