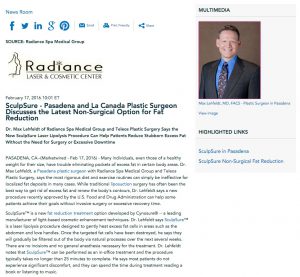 Dr. Max Lehfeldt of Radiance Spa Medical Group and Teleos Plastic Surgery says the new SculpSure™ laser lipolysis procedure can help patients reduce stubborn excess fat without the need for surgery or excessive downtime.
Pasadena, CA – Many individuals, even those of a healthy weight for their size, have trouble reducing pockets of excess fat in certain body areas. Dr. Max Lehfeldt, a Pasadena plastic surgeon with Radiance Spa Medical Group and Teleos Plastic Surgery, says the most rigorous diet and exercise routines can simply be ineffective for localized fat deposits in many cases. While traditional liposuction surgery has often been the best way to reduce excess fat and renew the body's contours, Dr. Lehfeldt says a new procedure recently approved by the U.S. Food and Drug Administration can help some patients achieve their goals without invasive surgery or excessive recovery time.
SculpSure™ is a new fat reduction treatment option developed by Cynosure® – a leading manufacturer of light-based cosmetic enhancement techniques. Dr. Lehfeldt says SculpSure™ is a laser lipolysis procedure designed to gently heat excess fat cells in areas such as the abdomen and love handles. Once the targeted fat cells have been destroyed, he says they will gradually be filtered out of the body via natural processes over the next several weeks. There are no incisions and no general anesthesia necessary for the treatment. Dr. Lehfeldt notes that SculpSure™ can be performed as an in-office treatment and the procedure typically takes no longer than 25 minutes to complete. He says most patients do not experience significant discomfort, and they can spend the time during treatment reading a book or listening to music.
According to Cynosure®, SculpSure™ has been shown to have achieved a 90% satisfaction rate among patients and a 24% average rate of fat reduction in the treated areas. Dr. Lehfeldt says, while some patients may need two separate SculpSure™ treatment sessions to achieve optimal results, many people require only a single treatment to meet their goals. He notes that, while liposuction may be a better option for those who have larger areas of excess fat, SculpSure™ can serve as an alternative for people who may not need surgery to achieve significant results. Dr. Lehfeldt says individuals who are considering SculpSure™ or other procedures to reduce excess fat should be sure to consult with a board-certified plastic surgeon who will go over all of their options and help them determine the best treatment for their needs.
About Max Lehfeldt, MD, FACS
Dr. Max Lehfeldt is certified by the American Board of Plastic Surgery. He is the head of Teleos Plastic Surgery and Radiance Spa Medical Group in the Pasadena and La Cañada area. Dr. Lehfeldt is a Fellow of the American College of Surgeons and a member of the American Society of Plastic Surgeons, the American Society for Aesthetic Plastic Surgery, and other medical organizations. Dr. Lehfeldt has been recognized multiple times as a "Top Doctor" in Pasadena Magazine and has also been named "Best Cosmetic Surgeon" in Pasadena Weekly Magazine. Radiance Spa Medical Group offers a comprehensive array of minimally-invasive and non-surgical cosmetic enhancement procedures, including laser-based therapies, injectable treatments, and aesthetician services. Teleos Plastic Surgery offers a wide range of surgical and non-surgical procedures, including options to rejuvenate the face, breasts, body, and skin. Dr. Lehfeldt is available for interview upon request.
For more information about Dr. Lehfeldt and his practice, please visit radiancemedicalspa.com, teleosplasticsurgery.com, and facebook.com/LCMedSpa.
Contact:
Radiance Spa Medical Group
La Cañada Office:
707 Foothill Blvd., Ste. 2
La Cañada, CA 91011
(855) 723-7721
Pasadena Office:
836 South Arroyo Parkway
Pasadena, CA 91105
(888) 963-7629
Rosemont Media
(858) 200-0044
www.rosemontmedia.com