About Us / Meet Our Staff
Our clinical staff members are licensed health care professionals that have developed expertise and specialization in aesthetic medicine. Each of our expert medical professionals has been personally trained by Dr. Lehfeldt and our staff works closely under his direct supervision. Our team members have all received advanced education, experience, and certificates in all of the products and procedures we offer. Our team specializes in minimally invasive and non-invasive medical aesthetic procedures. Your safety, health, and results are our TOP priority. We strive to deliver exemplary customer service in a relaxed and calming environment. Our team will spend time with you to define your aesthetic goals, help you understand your options on how to reach those goals, and address your concerns regarding comfort, time, and finances.
Meet the Team
Max Lehfeldt, M.D., F.A.C.S. – Board Certified Plastic & Reconstructive Surgeon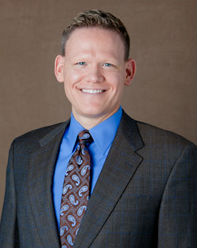 Dr. Lehfeldt specializes in surgery of the face, breast, and body. He operates at Huntington Memorial Hospital, Huntington Ambulatory Surgery Center, Arcadia Methodist Hospital, and Arcadia Outpatient Surgery Center. Dr. Lehfeldt completed his undergraduate education at Yale University and went on to the University of Southern California-Keck School of Medicine. He completed his plastic surgery training at the University of Southern California. Dr. Lehfeldt is a member of the American Society of Plastic Surgeons (ASPS), a member of the American Society for Aesthetic Plastic Surgery (ASAPS), and a Fellow of the American College of Surgeons (FACS). Personal Website: www.TeleosPlasticSurgery.com

Roger Terman – General Manager
Roger has a wealth of knowledge and experience in the aesthetic field and is a tremendous resource as our general manager. He has been in the medical aesthetic industry for almost 10 years and is well-versed on the latest aesthetic techniques and knowledge. Please come in for your complimentary consultation and because we will be discussing medical procedures, one of our outstanding physician assistants or nurse practitioners will be present to provide additional medical information and recommendations. If you have any special needs or requests please contact Roger.
Cathy Clark – Medical Assistant, Assistant Manager
Cathy has over 25 years of experience in medical aesthetics. She is extremely knowledgeable about all the treatments and skin care products that Radiance has to offer. She is the cheerful voice you hear on the phone when you call to book your appointments. Please do not hesitate to ask her your questions!
Gigi Schlueter – Registered Nurse, Master of Science in Nursing, Family Nurse Practitioner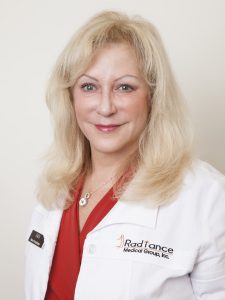 Gigi has been in medicine for over 41 years and medical aesthetics for over 9 years. Her area of specialty includes all injectables (Botox, Dysport, Juvederm, Voluma, Restylane, Restylane Lyft (Perlane), Sculptra). Gigi also specializes in Palomar's photofacial, laser hair reduction, and fractional; Thermage, CoolSculpting, Dermapen, and Sclerotherapy. She holds certificates in all procedures she performs. Gigi also holds certification in medical aesthetics from the American Academy of Medical Esthetics Professionals (A.A.M.E.P.).
Barbara Tucker – Registered Nurse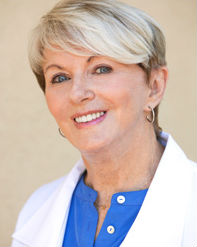 Barbara received her nursing degree from Queen Elizabeth Hospital School of Nursing in Montreal. She has been practicing medical aesthetics for over 12 years. Barbara is certified in Ultherapy®, Thermage®, all injectables, IPL Photofacials™, sclerotherapy, and laser hair removal.
Julie Clause – Registered Nurse
Julie has been a registered nurse for over 25 years and has over 14 years of experience in aesthetic medicine. Julie has advanced training and specializes in BOTOX® Cosmetic and dermal fillers. She is also certified in laser safety with the Laser Institute of America and has received certification in over 15 different lasers.
Julie will be at our Pasadena office on the following Fridays:
January 9th & 23rd
February 6th & 20th
March 6th & 20th
Jennifer Ellis – Registered Nurse, Bachelor of Science in Nursing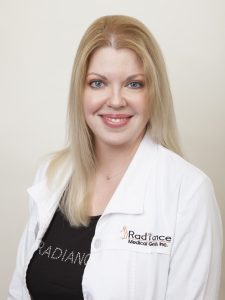 Jennifer received her Bachelors Degree in Nursing from the University of Southern California. She has been specializing in aesthetic medicine for over 13 years and is certified in over 20 procedures, including BOTOX® Cosmetic, Ultherapy®, Thermage, CoolSculpting®, DermaPen®, peels, and sclerotherapy.
Jennifer will be at our La Canada office the 1st and 3rd Sunday each month.
Vangie Luong – Certified Physician Assistant
Vangie is an enthusiastic physician assistant with a great love for plastic and reconstructive surgery. She received her Master's Degree from Western University of Health Sciences and her undergraduate degree from Cal Poly Pomona. Vangie is an experienced aesthetic practitioner and performs BOTOX® Cosmetic, JUVEDERM® fine line fillers, Ultherapy®, Palomar Icon laser treatments, and sclerotherapy. Vangie also assists in surgery and has the experience to perform minor surgical procedures such as lesion removal and suturing.
Shannon Bell – Registered Nurse, Master of Science in Nursing, Adult Nurse Practitioner
Shannon has been a registered nurse since 2004. She received her Master of Science in nursing from Cal State University Long Beach to be a nurse practitioner in 2010. She is an experienced injector with training in BOTOX® Cosmetic and JUVEDERM® fine line filler.
Esther Agepogu – Certified Physician Assistant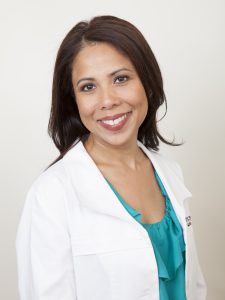 Esther received her undergraduate degree from UCLA and her Masters in Physician Assistant Practice from USC Keck School of Medicine.  She has specialized in dermatology and aesthetic medicine for 10 years and continues to focus on delivering the most innovative and high quality care for her patients.
Esther is at our Pasadena office every Monday & Wednesday
Lu Ann Landau – Registered Nurse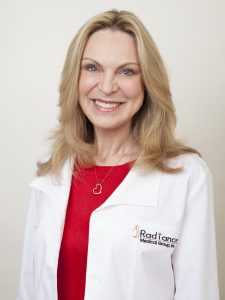 Lu Ann has practiced nursing for over 36 years and has been in aesthetic nursing field for the last 14 years. She works closely with plastic surgeons and dermatologists in the area and, as a result, has acquired a comprehensive knowledge base in all things aesthetic. She has experience with all types of lasers and is a master injector with Hollywood clients as well as a legion of "I won't go to anyone else" clients. She prides herself on providing a wonderful experience and helping people look their best but, at the same time – natural. Lu Ann's motto is "Look young, not done!"
Lu Ann is at our Pasadena office every Monday and Wednesday
Belle Huang – Registered Nurse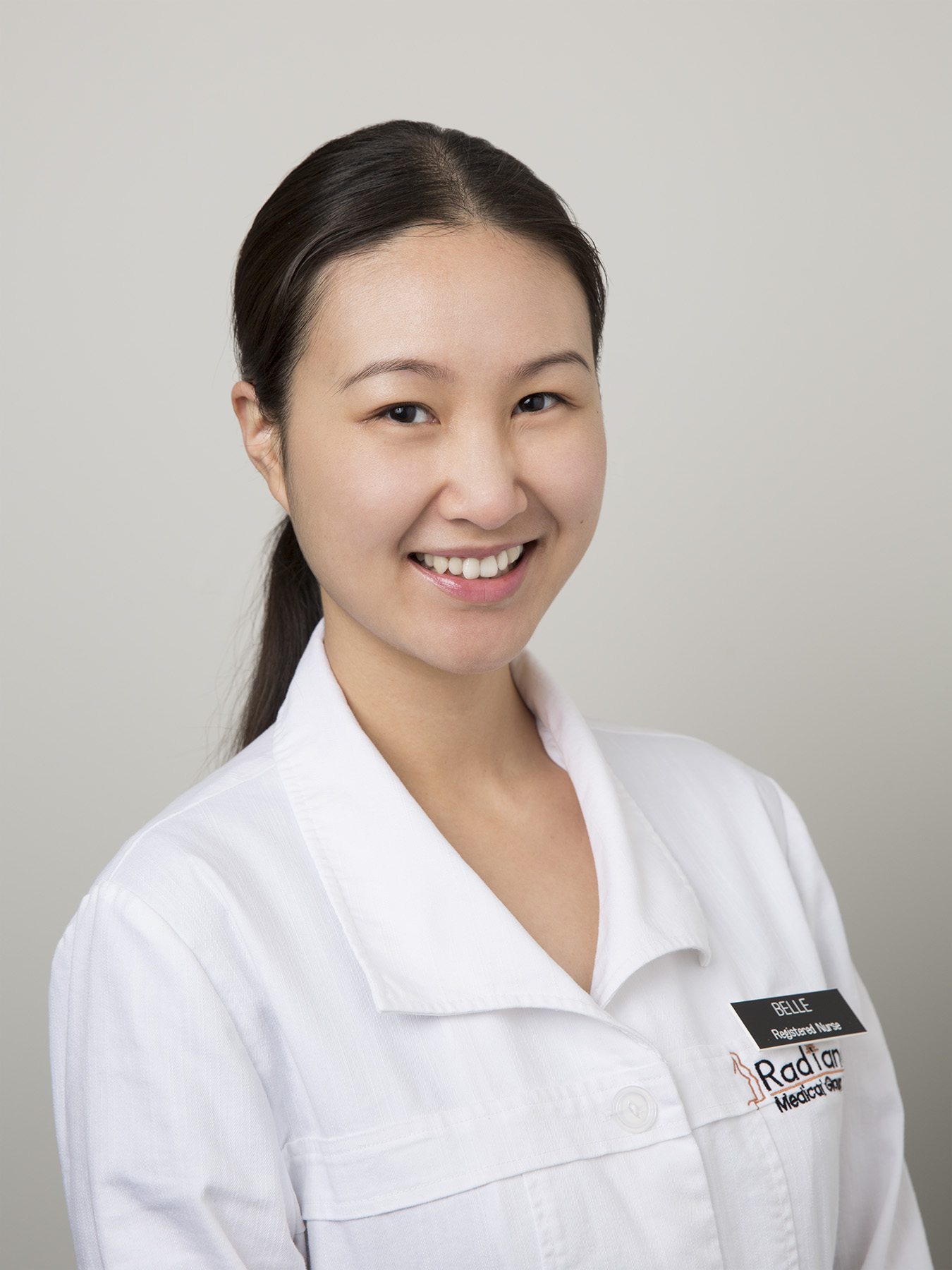 Belle has been a registered nurse for over 10 years and has over three years of experience in aesthetic medicine. She is experienced in BOTOX® Cosmetic injections, fillers, Ultherapy®, peels, microdermabrasion, and other laser machines. Belle is fluent in mandarin! Belle always delivers high-quality patient care.
Kat Davis – Licensed Vocational Nurse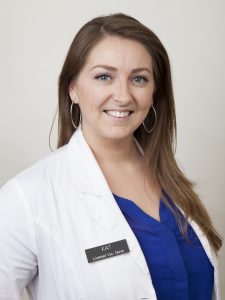 Kat is a Licensed Vocational Nurse and has been in the medical field for almost 10 years. Her attention to detail and commitment to outstanding patient care will enrich your experience starting with your first appointment.  Kat is a US Navy Veteran with two Navy Achievement Medals!  She enjoys her family and children in her free time.
Crystle Garcia – Certified Medical Assistant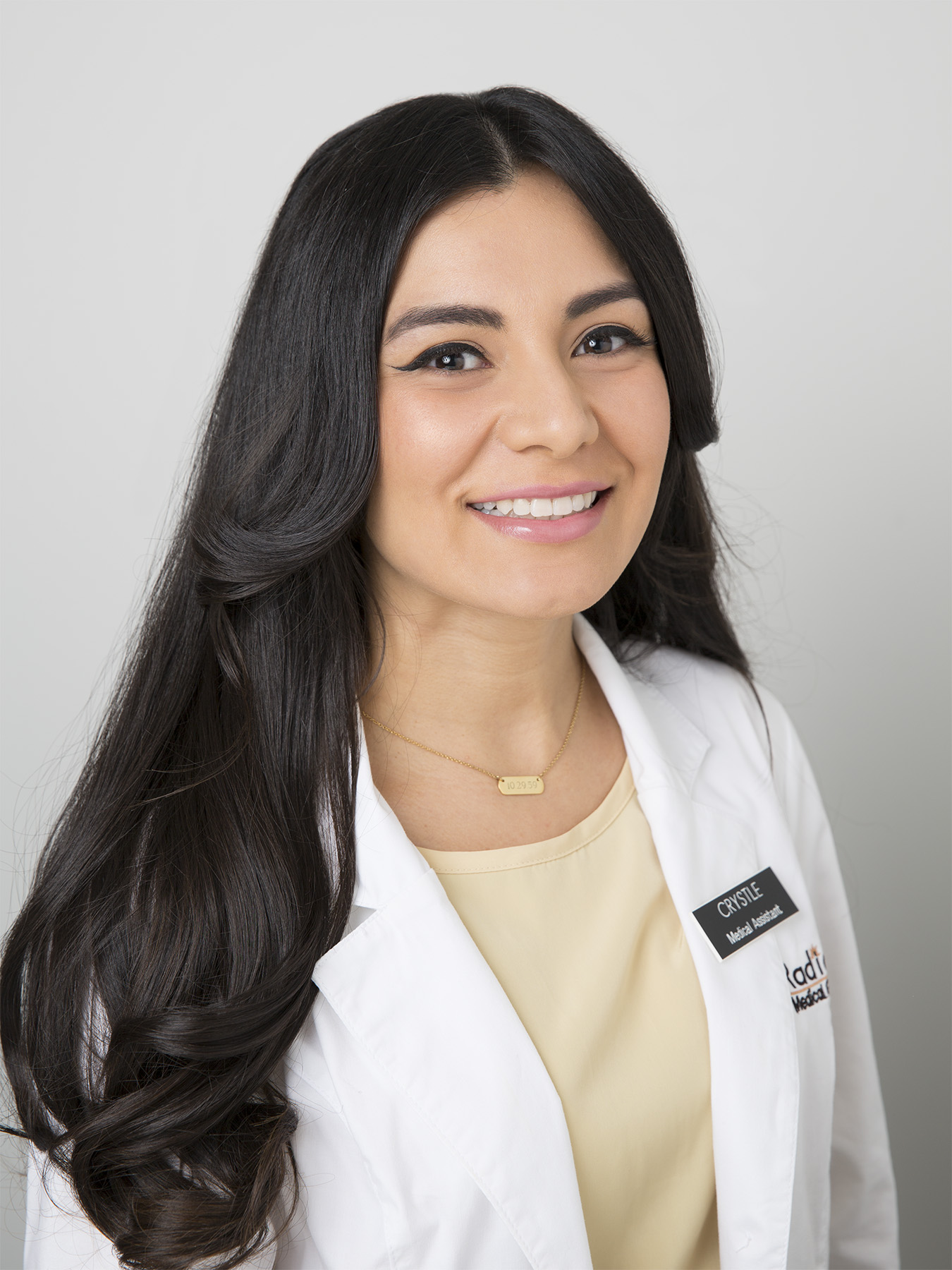 Crystle is a Certified Medical Assistant who is committed to your care both before and after your procedures. Crystle speaks fluent Spanish and takes great pride in working with board certified plastic surgeon, Max Lehfeldt. Crystle joined our team because of her experience and passion for the field of medical aesthetics. Crystle will guide you and help make your cosmetic or reconstructive surgery a great experience! In her free time, Crystle loves to travel, listen to country music, and spend time with her grandparents and maltese named Malibu. Please contact her via email or phone 888.96.DR.MAX (888.963.7629).
Sandra Ramirez – Receptionist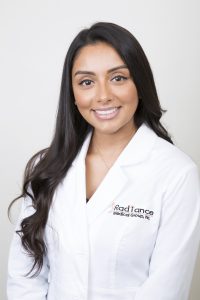 Sandra has been in the aesthetic field for over 5 years. She loves to help patients and inquire about the newest technologies in skin rejuvenation. She feels that feeling your best makes you be the best you can be. Sandra is here to help you book your appointments and guide you to the right answers. She loves to add a personal touch and build a personal experience with clients.
Audree Rodriguez – Patient Care Coordinator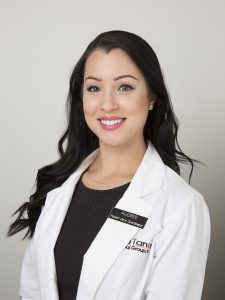 Audree is a patient care coordinator for our Pasadena location. She had been in the aesthetic field for over five years helping patients achieve their aesthetic and cosmetic goals. Audree will guide you through your medical spa and plastic surgery journey and her friendly personality will make you feel at ease when coming in for your consultations and treatments. You can reach Audree at our office via phone (888) 96.DR.MAX or email.
Facility Tour
Contact Radiance Spa Medical Group
If you would like more information, or if you would like to schedule a consultation here at our practice, please contact Radiance Spa Medical Group.