BOTOX® Cosmetic vs. Dermal Fillers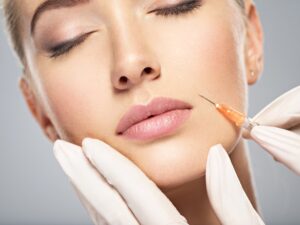 Facial rejuvenation without the need for surgery or downtime has become easier and more convenient than ever. Patients can minimize signs of aging and stress by smoothing wrinkles and lines and enhancing volume to facial features that appear thin, hollow, or "sunken," all in a relatively brief office visit. Among the most popular solutions here at the practice of Dr. Max Lehfeldt are BOTOX® Cosmetic and various dermal filler products. Before your first appointment and consultation, it's helpful to become familiar with each type of injectable so you can know a bit about the distinctions between them and how one option may be more advantageous than the other depending on your unique needs and goals.
BOTOX® Cosmetic
Aesthetic Concerns Addressed: Wrinkles, lines, and tension in specific facial areas, such as between the eyebrows, along the forehead, and on the sides of the eyes.
Composition: A purified form of botulinum toxin (neurotoxin-based injectable).
How It Works: BOTOX® Cosmetic temporarily prevents muscles in the treatment area from contracting, thereby relaxing the muscles and softening lines and wrinkles.
Longevity: Typically, about three to four months.
Dermal Fillers
Aesthetic Concerns Addressed: Many types of dermal fillers are designed to reduce signs of deep wrinkles and fine lines, including smile lines, marionette lines, and vertical lines near the mouth, among other areas. There are also several dermal fillers that can be ideal for adding volume and enhancing contours to facial features such as the lips, cheeks, and others.
Composition: A variety of dermal fillers contain naturally-occurring substances found in the human body, such as hyaluronic acid or calcium-based gel microspheres. Typically, dermal fillers are not neurotoxin-based injectables.
Longevity: Depending on the specific product administered, many dermal fillers can last anywhere from 6 to 18 months. Some products may last even longer for some patients.
Radiance Spa Medical Group Offers:

JUVÉDERM® – including several products in this line
BOTOX® Cosmetic and most dermal fillers are each eventually metabolized and absorbed, causing results to gradually fade over time. Many individuals can maintain the effects of these treatments with occasional follow-up injections.
Once you have been evaluated a member of our experienced team of providers can help you determine whether BOTOX® Cosmetic, an injectable dermal filler, or another option is more ideal for your concerns. Contact Radiance Medical Spa today to learn more about our non-surgical cosmetic enhancement options, or to schedule a consultation.