The New Standard: Benefits of Fractional CO2 Laser Skin Resurfacing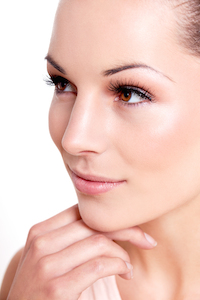 Capable of dramatically enhancing skin tone and texture and reducing common signs of aging, fractional CO2 laser skin resurfacing is one of the most popular non-surgical cosmetic treatments available. At our medical spa, Dr. Max Lehfeldt utilizes the state-of-the-art DEKA DOT Fractional CO2 Laser, which is a highly effective and gentle method for renewing the skin and restoring a more youthful appearance.
Traditional, ablative, non-fractional lasers—once the standard for helping to treat sun damage, fine lines, and acne scars—can offer excellent results relatively quickly; however, treatments are typically painful, harsh on the skin, and often come with an elevated risk for hypopigmentation.
Our fractional CO2 laser provides a quicker recovery, reduced discomfort, and long-lasting gradual improvement. Due to the increased benefits, fractional lasers have completely supplanted non-fractional lasers in the field of aesthetic enhancement.
Fractional CO2 laser skin resurfacing is designed to stimulate natural collagen production in the skin of the face, neck, chest, and hands, leading to steady rejuvenation over several months and lasting up to several years. Additionally, laser resurfacing can be used in combination with aesthetic facial surgery, such as a facelift or neck lift, to achieve the best results possible.
Other benefits of Fractional CO2 laser skin treatments include:
Minimizes sun damage, acne scars, and fine lines
Improves skin texture and evens skin tone
Stimulates collagen for firmer, more youthful skin
May help treat pre-cancerous skin lesions
Minimal downtime
Some redness after treatment is normal, and both topical and oral medications are provided to help manage discomfort. Healing times are typically quicker than with non-fractional lasers, and patients can expect to see some improvement immediately with more pronounced effects visible after a few months.
If you would like more information about our DEKA DOT Fractional CO2 Laser, or if you wish to schedule a consultation with Dr. Lehfeldt, please contact us today.