Laser Tattoo Removal Device Offers Diverse Benefits States Pasadena Plastic Surgeon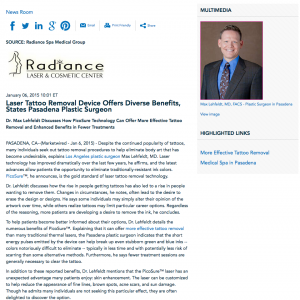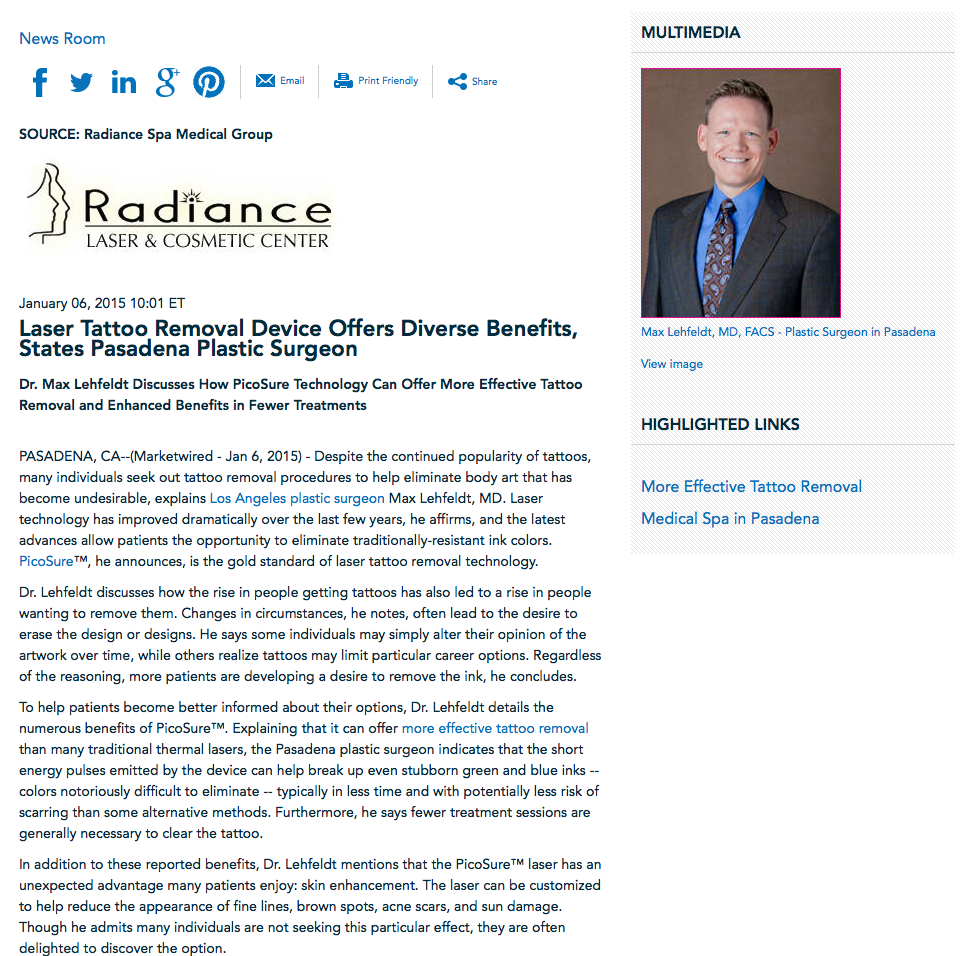 Dr. Max Lehfeldt discusses how PicoSure™ technology can offer more effective tattoo removal and enhanced benefits in fewer treatments.
Pasadena, CA—Despite the continued popularity of tattoos, many individuals seek out tattoo removal procedures to help diminish signs of body art that has become undesirable, explains Los Angeles plastic surgeon Max Lehfeldt, MD. Laser technology has improved dramatically over the last few years, he affirms, and the latest advances allow patients the opportunity to reduce traditionally-resistant ink colors. PicoSure™, he announces, is the gold standard of laser tattoo removal technology.
Dr. Lehfeldt discusses how the rise in people getting tattoos has also led to a rise in people wanting to remove them. Changes in circumstances, he notes, often lead to the desire to erase the design or designs. He says some individuals may simply alter their opinion of the artwork over time, while others realize tattoos may limit particular career options. Regardless of the reasoning, more patients are developing a desire to remove the ink, he concludes.
To help patients become better informed about their options, Dr. Lehfeldt details the numerous benefits of PicoSure™. Explaining that it can offer more effective tattoo removal than many traditional thermal lasers, the Pasadena plastic surgeon indicates that the short energy pulses emitted by the device can help break up even stubborn green and blue inks—colors notoriously difficult to diminish—typically in less time and with potentially less risk of scarring than some alternative methods. Furthermore, he says fewer treatment sessions are generally necessary to clear the tattoo.
In addition to these reported benefits, Dr. Lehfeldt mentions that the PicoSure™ laser has an unexpected advantage many patients enjoy: skin enhancement. The laser can be customized to help reduce the appearance of fine lines, brown spots, acne scars, and sun damage. Though he admits many individuals are not seeking this particular effect, they are often delighted to discover the option.
Ultimately, Dr. Lehfeldt says he equips his medical spa with state-of-the-art technology so patients can more easily achieve their cosmetic goals. PicoSure™ laser tattoo removal, he explains, is designed to provide an abundance of benefits at a quality above and beyond the competition.
About Max Lehfeldt, MD, FACS
A board-certified plastic and reconstructive surgeon, Dr. Lehfeldt graduated from Yale University before attending the University of Southern California-Keck School of Medicine to earn his medical degree and complete his plastic surgery training. He is an active member of several esteemed medical associations, including the American Society of Plastic Surgeons, the American College of Surgeons, and the American Society for Aesthetic Plastic Surgery. He operates out of Huntington Memorial Hospital and Huntington Ambulatory Surgical Center, among several other distinguished medical centers. Dr. Lehfeldt is available for interview upon request.

For more information about Dr. Lehfeldt and Radiance Spa Medical Group, please visit radiancemedicalspa.com and facebook.com/LCMedSpa.
Contact:
Radiance Spa Medical Group
La Cañada Office:
707 Foothill Blvd., Ste. 2
La Cañada, CA 91011
(855) 723-7721
Pasadena Office:
836 South Arroyo Parkway
Pasadena, CA 91105
(888) 963-7629
Rosemont Media
(858) 200-0044
www.rosemontmedia.com