Pasadena Plastic Surgeon Details Benefits of Customized Laser Skin Resurfacing Treatment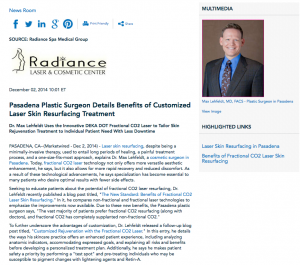 Dr. Max Lehfeldt uses the innovative DEKA DOT Fractional CO2 Laser to tailor skin rejuvenation treatment to individual patient need with less downtime.
Pasadena, CA— Laser skin resurfacing, despite being a minimally-invasive therapy, used to entail long periods of healing, a painful treatment process, and a one-size-fits-most approach, explains Dr. Max Lehfeldt, a cosmetic surgeon in Pasadena. Today, fractional CO2 laser technology not only offers more versatile aesthetic enhancement, he says, but it also allows for more rapid recovery and reduced discomfort. As a result of these technological advancements, he says specialization has become essential to many patients who desire optimal results with fewer side effects.
Seeking to educate patients about the potential of fractional CO2 laser resurfacing, Dr. Lehfeldt recently published a blog post titled, "The New Standard: Benefits of Fractional CO2 Laser Skin Resurfacing." In it, he compares non-fractional and fractional laser technologies to emphasize the improvements now available. Due to these new benefits, the Pasadena plastic surgeon says, "The vast majority of patients prefer fractional CO2 resurfacing (along with doctors), and fractional CO2 has completely supplanted non-fractional CO2."
To further underscore the advantages of customization, Dr. Lehfeldt released a follow-up blog post titled, "Customized Rejuvenation with the Fractional CO2 Laser." In this entry, he details the ways his skincare practice offers an enhanced patient experience, including analyzing anatomic indicators, accommodating expressed goals, and explaining all risks and benefits before developing a personalized treatment plan. Additionally, he says he makes patient safety a priority by performing a "test spot" and pre-treating individuals who may be susceptible to pigment changes with lightening agents and Retin-A.
Ultimately, Dr. Lehfeldt believes that the combination of state-of-the-art technology and comprehensive customized patient care will help his patients achieve the best results possible. He recommends that individuals who are seeking treatment for fine lines, sun damage, and facial scarring consider non-surgical, fractional CO2 laser skin resurfacing from a qualified and attentive cosmetic enhancement practice.
About Max Lehfeldt, MD, FACS
A board-certified plastic and reconstructive surgeon, Dr. Lehfeldt earned his undergraduate degree from Yale University and his medical degree from the University of Southern California-Keck School of Medicine—where he continued on to complete additional training in plastic surgery. A member of several prestigious medical associations, including the American Society of Plastic Surgeons (ASPS) and the American Society for Aesthetic Plastic Surgery (ASAPS), he is also a Fellow of the American College of Surgeons (FACS). Dr. Lehfeldt is available for interview upon request.
For more information about Dr. Lehfeldt and his skincare practice, please visit radiancemedicalspa.com and facebook.com/LCMedSpa.
Contact:
Radiance Spa Medical Group
La Canada Office:
707 Foothill Blvd., Ste. 2
La Canada, CA 91011
(855) RAD SPA 1
(855) 723-7721
Pasadena Office:
836 South Arroyo Pkwy.
Pasadena, CA 91105
(888) 96 DR MAX
(888) 963-7629
Rosemont Media
(858) 200-0044
www.rosemontmedia.com