Welcome to Our New Laser and Cosmetic Surgery Website!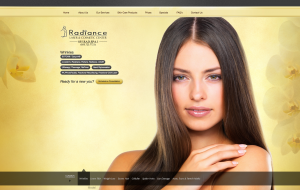 Dr. Max Lehfeldt and his entire team at Radiance Medical Spa would like to welcome you to our brand new, state-of-the-art website. The new site provides a comprehensive look into what our practice offers that can help you attain your aesthetic enhancement goals. Throughout our website you will find in-depth biographies of our board-certified plastic surgeon and his experienced team, as well as answers to frequently asked questions and information on our most recent specials. You will also find detailed descriptions of the procedures we offer, which include laser skin rejuvenation, laser hair removal, BOTOX® Cosmetic, chemical peels, body slimming options, professional skin care products, and much more.
Our experienced plastic surgeon and licensed skin care professionals are committed to providing you with the highest quality patient care. We employ the most advanced techniques to help you achieve the most beautiful and natural-looking results. Our new website is designed to serve as a valuable research tool with reliable, up-to-date information, as well as providing patients with easy ways to contact us with any questions, or to schedule a consultation to discuss your needs.
Please browse through the features of our website and contact our practice today for more information, or to request a consultation. We look forward to hearing from you!