Surgical Facelift and Non-Surgical Liquid Facelift: Medical Spa in Pasadena Area Compares the Benefits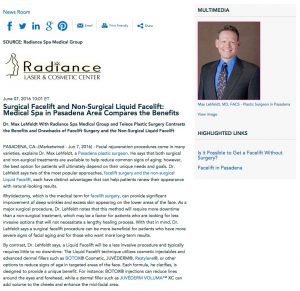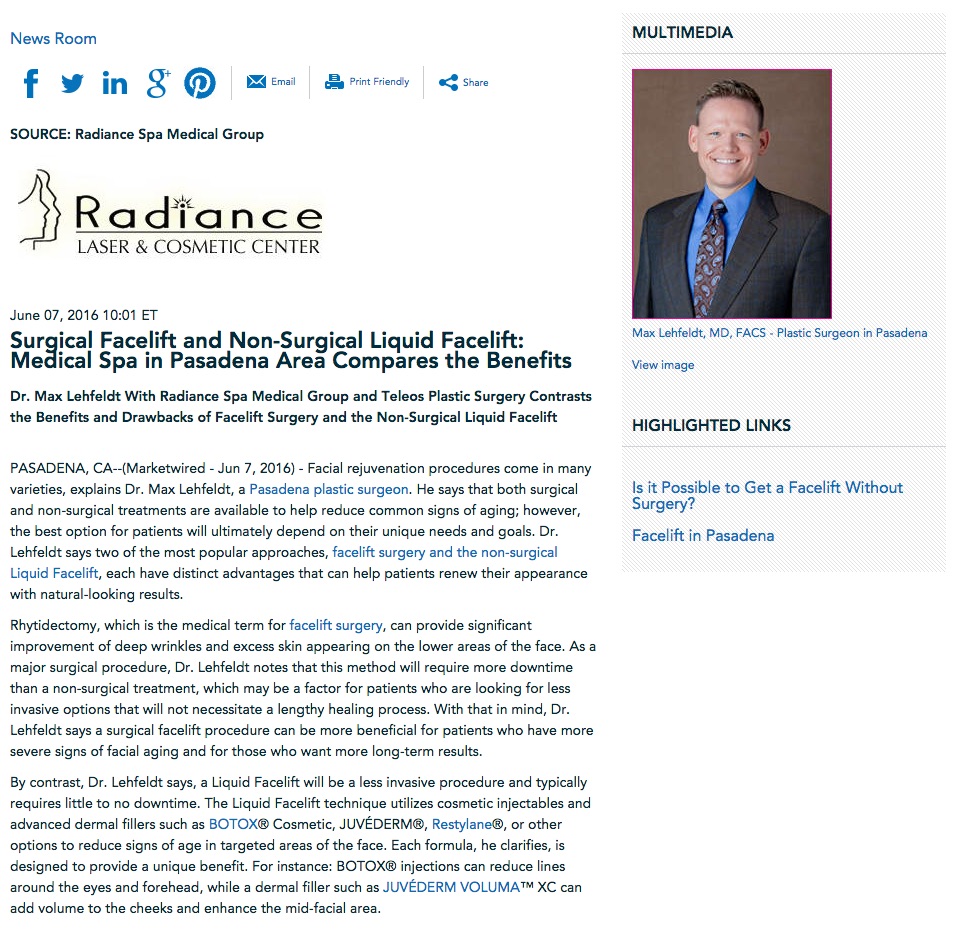 Dr. Max Lehfeldt with Radiance Spa Medical Group and Teleos Plastic Surgery contrasts the benefits and drawbacks of facelift surgery and the non-surgical Liquid Facelift.
Pasadena, CA—Facial rejuvenation procedures come in many varieties, explains Dr. Max Lehfeldt, a Pasadena plastic surgeon. He says that both surgical and non-surgical treatments are available to help reduce common signs of aging; however, the best option for patients will ultimately depend on their unique needs and goals. Dr. Lehfeldt says two of the most popular approaches, facelift surgery and the non-surgical Liquid Facelift, each have distinct advantages that can help patients renew their appearance with natural-looking results.
Rhytidectomy, which is the medical term for facelift surgery, can provide significant improvement of deep wrinkles and excess skin appearing on the lower areas of the face. As a major surgical procedure, Dr. Lehfeldt notes that this method will require more downtime than a non-surgical treatment, which may be a factor for patients who are looking for less invasive options that will not necessitate a lengthy healing process. With that in mind, Dr. Lehfeldt says a surgical facelift procedure can be more beneficial for patients who have more severe signs of facial aging and for those who want more long-term results.
By contrast, Dr. Lehfeldt says, a Liquid Facelift will be a less invasive procedure and typically requires little to no downtime. The Liquid Facelift technique utilizes cosmetic injectables and advanced dermal fillers such as BOTOX® Cosmetic, JUVÉDERM®, Restylane®, or other options to reduce signs of age in targeted areas of the face. Each formula, he clarifies, is designed to provide a unique benefit. For instance: BOTOX® injections can reduce lines around the eyes and forehead, while a dermal filler such as JUVÉDERM VOLUMA™ XC can add volume to the cheeks and enhance the mid-facial area.
Broadly speaking, minimally invasive facial rejuvenation is designed to reduce lines, add volume to facial features such as the lips and cheeks and enhance the contours of the face. That said, Dr. Lehfeldt emphasizes that this approach cannot eliminate excess skin or offer the same results as a surgical facelift. Dr. Lehfeldt also notes that the effects of a Liquid Facelift will not last as long as a surgical facelift, although they can be extended with occasional follow-up treatment sessions. He typically recommends the Liquid Facelift for patients who are seeking treatments that offer minimal downtime, are experiencing only mild to moderate signs of facial aging, and/or have an aversion to undergoing surgery.
For patients who would benefit more from a full surgical procedure, Dr. Lehfeldt says it can even be advantageous for some individuals to have dermal fillers or other injectable treatments as well since they can enhance the outcome to an even greater degree. Ultimately, Dr. Lehfeldt encourages those considering any type of cosmetic enhancement to talk about their cosmetic goals and be sure all of their concerns are addressed during their initial consultation. He says a thorough discussion and evaluation with an experienced and qualified medical professional is of paramount importance before undergoing surgical or non-surgical treatment, and patients should always be sure they feel comfortable and confident in the hands of the person they choose to perform their procedure.
About Max Lehfeldt, MD, FACS
Max Lehfeldt, MD, FACS is a board-certified plastic surgeon and the head of both Radiance Spa Medical Group and Teleos Plastic Surgery in the La Canada, Pasadena, and greater Los Angeles area. He is a member of the American Society for Aesthetic Plastic Surgery and the American Society of Plastic Surgeons, and is a Fellow of the American College of Surgeons. Dr. Lehfeldt has been featured several times as a "Top Doctor" in Pasadena Magazine. Radiance Spa Medical Group is a "Top 6" U.S. medspa offering a comprehensive selection of non-surgical cosmetic enhancement options, including dermal fillers, laser skin resurfacing, and body contouring. Teleos Plastic Surgery provides an array of surgical procedures designed to rejuvenate the face, breasts, body, and skin. Dr. Lehfeldt is available for interview upon request.
For more information about Dr. Lehfeldt and his practice, please visit radiancemedicalspa.com and teleosplasticsurgery.com.
Contact:
Radiance Spa Medical Group
La Cañada Office:
707 Foothill Blvd., Ste. 2
La Cañada, CA 91011
(855) 723-7721
Radiance Spa Medical Group / Teleos Plastic Surgery
Pasadena Office:
836 South Arroyo Parkway
Pasadena, CA 91105
(888) 963-7629
Rosemont Media
(858) 200-0044
www.rosemontmedia.com