Pasadena Plastic Surgeon On Differences In BOTOX® Cosmetic For Men And Women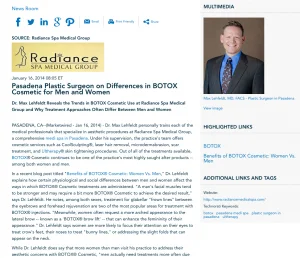 Dr. Max Lehfeldt reveals the trends in BOTOX® Cosmetic use at Radiance Spa Medical Group and why treatment approaches often differ between men and women.
Pasadena, CA – Dr. Max Lehfeldt personally trains each of the medical professionals that specialize in aesthetic procedures at Radiance Spa Medical Group, a comprehensive medi spa in Pasadena. Under his supervision, the practice's team offers cosmetic services such as CoolSculpting®, laser hair removal, microdermabrasion, scar treatment, and Ultherapy® skin tightening procedures. Out of all of the treatments available, BOTOX® Cosmetic continues to be one of the practice's most highly sought after products—among both women and men.
In a recent blog post titled "Benefits of BOTOX® Cosmetic: Women Vs. Men," Dr. Lehfeldt explains how certain physiological and social differences between men and women affect the ways in which BOTOX® Cosmetic treatments are administered. "A man's facial muscles tend to be stronger and may require a bit more BOTOX® Cosmetic to achieve the desired result," says Dr. Lehfeldt. He notes, among both sexes, treatment for glabellar "frown lines" between the eyebrows and forehead rejuvenation are two of the most popular areas for treatment with BOTOX® injections. "Meanwhile, women often request a more arched appearance to the lateral brow – known as a 'BOTOX® brow lift' – that can enhance the femininity of their appearance." Dr. Lehfeldt says women are more likely to focus their attention on their eyes to treat crow's feet, their noses to treat "bunny lines," or addressing the slight folds that can appear on the neck.
While Dr. Lehfeldt does say that more women than men visit his practice to address their aesthetic concerns with BOTOX® Cosmetic, "men actually need treatments more often due to their stronger facial muscles." According to the Pasadena plastic surgeon, an estimated 30% of his male clients consist of people who want to remain competitive in the workplace and another 30% are encouraged by their spouses.
Dr. Lehfeldt says BOTOX® Cosmetic is the most researched neurotoxin on the market, and has always led the way in terms of FDA-approved indications in the neurotoxin field. Dr. Lehfeldt highlights that for men and women alike, "there is no better way to maintain a youthful look to the facial skin." He considers BOTOX® Cosmetic to be peerless when it comes to neurotoxin-based facial rejuvenation.
"BOTOX® Cosmetic — when used consistently — is the best 'fountain of youth' we have!"
About Max Lehfeldt, MD, FACS
A graduate of Yale University, Dr. Lehfeldt earned his medical degree from the University of Southern California-Keck School of Medicine. He is a board-certified plastic and reconstructive surgeon and has been named as one of Pasadena Magazine's "Top Doctors" for the last 7 years. In addition, Radiance Spa Medical Group was named "Best Med Spa" by Pasadena Weekly Reader Poll 2012. Dr. Lehfeldt is available for interview upon request.
For more information about Dr. Max Lehfeldt and Radiance Spa Medical Group, please visit radiancemedicalspa.com or facebook.com/LCMedSpa.
Contact:
Radiance Spa Medical Group
707 Foothill Boulevard
Suite 2
La Canada, CA 91011
(855) RAD-SPA-1
(855) 723-7721
Max Lehfeldt, M.D.
255 East Santa Clara Street, Suite #310
Arcadia, CA 91006
(888) 96-DR-MAX
(888) 963-7629
Rosemont Media
[email protected]
(858) 200-0044
www.rosemontmedia.com