PhotoFacials – Rejuvenating Skin Without Surgery!
On behalf of Teleos Plastic Surgery & Radiance MedSpa, please enjoy this informational article written by Gigi Schlueter, Registered Nurse, Master of Science in Nursing, Family Nurse Practitioner.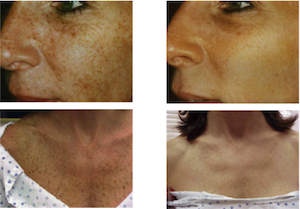 Photofacials are often overlooked and undervalued, but they are fabulous treatments!  Photofacial, also called IPL, or "Intense Pulsed Light", is a light-based device used for skin rejuvenation.  It has been shown to help improve the appearance of broken capillaries and brown skin discolorations, as well as to tighten and refine the appearance of the skin.

Most patients report positive results after the first treatment: some are immediate; some results take a few days.  Studies indicate 90% of Photofacial Skin Rejuvenation patients have a high degree of overall satisfaction with the results, which are long lasting with continued use of sunscreen.
After the first Photofacial treatment, skin will already feel smoother.  Like other laser-based procedures, Photofacial's light beam typically feels like a rubber band snapping against the skin.  After treatments, pain is reported as either very mild or nonexistent.  Photofacial is a low risk, nonsurgical procedure with clinical results.  A Photofacial package can rejuvenate your skin and make you feel years younger.
Given that there is little damage to the skin surface, several treatments may be required to see the desired effect.  For best results, approximately 3-5 treatments, spaced 4 weeks apart, are recommended.  The number of photofacials you will need will vary depending on the condition you're treating, the results you want, and how your skin responds.  Side effects can include transient redness and increased or decreased pigment.
Please contact us for a complimentary skin analysis and Photofacial/IPL consultation.